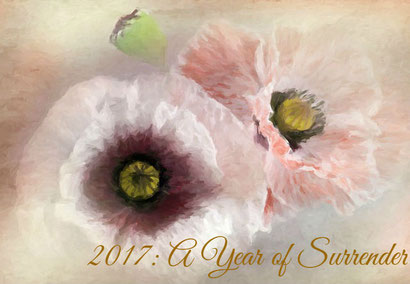 Dear Beautiful Souls, 
January is traditionally a time of hope and renewal – an opportunity for a fresh start. But for many of us, this year begins with great uncertainty and perhaps fear. We are at a crossroads, and we cannot see what lies ahead. We may feel powerless or lost. We may feel called to action but hopeless about being able to make a difference. Whatever we are feeling, we find it difficult to know the best course of action. More than ever, we are reminded that we are not in control.  
The universe is chaotic and unpredictable by nature. When all is well, we experience this truth as a source of great mystery, surprise, and delight. But when events take an unsettling turn, the fundamental unpredictability of the world can make us feel anxious or even despairing. What comes to our aid is surrender to the Divine – the ultimate power who cares for and guides his creation.  
In this moment, at the beginning of 2017, I invite you to learn and practice surrender. 
Many of us first encounter the idea of surrender during times of need or crisis. But however useful it may be in times like the present, surrender is far more than a remedy or coping mechanism. It is a way of life. In fact, given the limits of our power and control, surrender is always our only real option.  
Surrender is not easy, but it is much easier to surrender than to try to hold everything together by ourselves. Where our individual powers end, the Divine is waiting for us. We arrive at the limits of what we can do on our own, and so we knock on the door of the Divine. When we do that, the Divine responds with love and grace.  
Surrendering cannot be done halfway; it requires our wholehearted commitment. What does it mean to surrender completely to the Divine? It is a declaration of your heart that you give yourself—your life, your path, your destiny, and your soul—over to your Creator; you wholeheartedly say, "Guide me. Take care of me. I am here to acknowledge the truth about you while I do good in the world." 
Surrendering does not mean you do not make choices. In and of itself, surrender is a choice we consciously make when we realize that we need Divine guidance. Nor does it mean that you do nothing. Being a human with free will comes with the responsibility to do and be in this world that is guided by Divine power. Surrender starts with acknowledgment of our humanness and the Divine presence in our lives, and it moves us toward the art of applying our willpower to create good in the world.  
Most importantly, surrendering does not mean giving up. When we have been so thoroughly steeped in a culture that convinces us of the power and value of sheer effort, we may see surrender as failure. In fact, surrendering is an act of great courage. It takes a lot of wisdom and faith to let things be. Surrender requires you to understand both your responsibility and the limits of your responsibility.  
Imagine you are sailing a yacht on a perfectly sunny day. The smell of fresh sea air is intoxicating. Your heart knows the wind will carry you where you want to go, as long as you steer in your intended direction. You move purposefully through the vast blue sea, knowing that all is well. That's the power of surrendering to the Divine: you navigate life with guidance and support. 
Alignment with the Divine is the delicate combined state of surrender and prayer. In alignment, you move and act the same way the rest of God's creations do, secure in the knowledge that a higher power guides and takes care of you. At the same time, you are in a constant state of prayer, or personal communication with the Divine. Prayer is your input into the sacred circle. You pray for the outcomes that you desire, and then you wholeheartedly surrender your actions and listen in. In this way, the Divine shapes your life with wisdom and grace.  
When you enter into this sacred circle with the Divine, you yield control and receive love and protection. You use your free will to do good in the world while maintaining a state of openness, faith, and acceptance of what comes your way. 
So, let 2017 be your year to cultivate an intimate connection to the Divine. Start by clarifying your intentions and goals. What do you wish for yourself, for those you love, and for all beings? Choose a maximum of three to four goals as an area of focus. Then pray to the Divine for what you desire. Set weekly or monthly actions to get you closer to your goals. Finally, surrender the outcomes and your wishes to the Divine power that operates the universe. Trust and be patient. There is no need for strain. It is through surrender, not effort, that we become secure, achieve our dreams, and fulfill our highest purpose. Be assured that the Divine will give you what your soul desires in so many ways. 

Action item: Take the time to journal about your intentions and goals. Then commit to a daily practice of prayer in which you express both your desires and your gratitude for the guidance and protection of the Divine. What do you notice about the outcomes? How do you feel? Share your thoughts in the comments below. 
Would you like to join our community? Sign up today to get your free copy of Living a Happiness Prone Life e-book, a valuable resources that teaches you what it takes to be truly happy in life. Use the form on the right sidebar to enter your name and email address. 
Related Links: About Me | About The Book
With love,