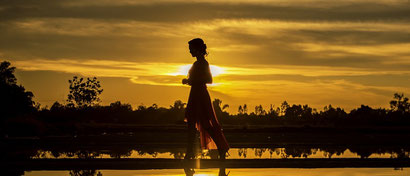 Dear Beautiful Souls, 
In December, I invited you to explore your life purpose by considering your unique abilities, finding a place where your gifts are needed, and then taking action, one step at a time. And in January, I wrote about surrendering your path, your goals, and your purpose to the Divine. When you combine these two ideas, you use your free will to do good in the world while staying open, faithful, and accepting of what comes your way. 
That sounds wonderful, doesn't it? And indeed it is. But as you've been putting these ideas into practice, I imagine you have had moments of uncertainty or even discouragement. Perhaps your commitment has wavered at times, when other priorities seem to demand your attention.  The path of purpose and surrender is not always smooth, but there is no journey that is more important than this one. Surrender is a universal law; we are called to acknowledge our innate need to give ourselves over to the Divine. It is also the key to fulfilling your purpose in life. So allow me to offer some practical ways you can learn to do it. 
Set the intention. It is important to place your goals in the context of the three primary needs of the soul: to find and connect to the Divine, to be in the world in ways that match its unique essence, and to express its beauty through your actions. For the sake of simplicity and clarity, I recommend focusing on three to four goals you'd like to achieve this year – no more. Don't be distracted by details. Seek the thing that rests at the core of your desire or dream, rather than getting fixated on a mental picture and a specific plan that may not actually align with your true purpose. 

Take guided action. Allow your next steps to be guided both by knowledge (that is, by what you've learned from your previous experiences) and by knowing (which comes from intuition, gut feelings, and insights you've arrived at through reflection). Once you get clarity on how to move ahead, begin planning your actions.  

Surrender your heart and mind. Now that you know what needs to be done, seek support. State a simple prayer: "Dear God, I have this beautiful desire in my heart to [state your intention]. Here I leave it to you, as you are the sole operator of this universe. I await a sign from you that I should take the next action in the direction of my desire. I am willing and ready. Thank you." Where our individual powers end, the Divine is waiting for us. When we knock on the door of the Divine, the Divine responds with love and grace.  

Trust and be patient. Surrender includes the state of waiting, and it is here that trust comes into play. Once you've taken action, let it be, having faith that Divine guidance will illuminate your next steps. There is a creative side of us that wants to initiate and push things forward. We must balance that aspect of ourselves with the side that is willing be in patience, prayer, and anticipation of what the Divine brings into our life. It's a delicate balance, but possible nonetheless.  

Continue to pray. Prayer isn't just about asking for what you want in the first place. It's an ongoing practice of communication with the Divine. During periods of waiting, prayer is essential to keep your vision and goals alive. You can use it to help bring yourself through a difficult situation. When things aren't unfolding as you expect, you can use prayer to investigate whether you need to clarify your intentions and align them with the needs of your soul. At any time, no matter what's happening, you can use prayer to move yourself forward. 

You can design your life to meet the soul's need to find and connect to its Divine creator, to be in its unique states, and to express itself fully. When you acknowledge the needs of the soul and engage in purposeful prayer, you are empowered to fulfill the intention of your creation. Paradoxically, surrender is the most powerful action we can take. Whatever you wish to accomplish, the practice of surrendering to the Divine will move you forward with grace. 
Would you like to join our community? Sign up today to get your 
free
 copy of 
Living a Happiness Prone Life e-book
, a valuable 
resources that teaches you what it takes to be truly happy in life
. Use the form on the right sidebar to enter your name and email address. 
Related Links: About Me | About The Book
With love,