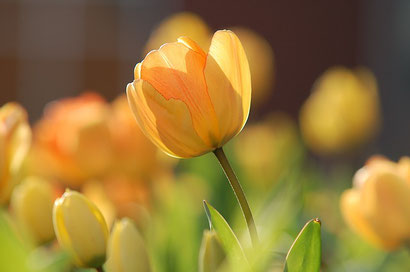 Dear Beautiful Souls, 
As the days lengthen, the world comes alive again after the darkness of winter. Seedlings sprout, trees grow new leaves, and flowers burst forth. No matter how long the winter has been, springtime reminds us that new beginnings are always possible.
The natural cycle of seasons prompts the human psyche toward renewal. This is a fitting time to think about how we could change our lives for the better. We can see more clearly what no longer serves us, and we feel ready to let go of those things. This is a wonderful impulse – one I invite you to follow.
But spring is not just about sunshine and bright flowers. The season has an unsettled feel as well. The weather is changeable, with gusty winds and heavy rain. While its restlessness may seem positive and hopeful, filled with life, it can also challenge us. A late frost can kill tender seedlings. Likewise, some of our intended changes wither on the branch or simply fail to take root.  
What are we to do with the stirred-up energy of spring? How can we make the best of this time marked by chaos and unpredictability?
Chaos is powerful, but it is not random. Its purpose is to instigate evolution. The nature of life is to grow us, to develop us toward fulfilling the purpose imprinted in us by the Divine, just as the warming soil tells the crocus bulb to unfurl. With this in mind, we can welcome the turbulence that springtime brings to our life.
Starting a new life is not always easy. The energy of spring reminds us that we must let go of the old, get clear on what we want, and then allow the seedlings of intention to take root in our lives through consistent action.
Sometimes we can see clearly the direction in which we are meant to grow; other times, we must ask ourselves honestly which parts of our life need attention. We can achieve true happiness and well-being only when we attend to the three primary needs of our soul: to find and connect to Source, to find our soul's own unique ways of being in the world, and to find ways of expressing its true beauty and purpose. And we take the first step in meeting the soul's needs by creating practices to nurture ourselves on the physical, emotional, mental, social, and spiritual levels. Any of these areas could be the focus for your springtime growth.
Once you've identified the starting point, it's time to begin the journey. Successful change has six key components:
Willingness.

If you are not ready to change, you may hold unknowingly yourself back. Check in with yourself and assess your level of willingness to change. 

Clarity.

When you are specific about your goals, your life will unfold toward them. Take the time to get clear on what you really want and what could change at this time of the year. 

Intention.

An intention is a vision of an outcome plus a desire to make a change here and now. Once willingness and vision are established, it's time to muster up some courage to choose your direction. 

 

Taking guided action.

Surrender your intention to the Divine, then notice the signs that emerge

. It could be a small goal or a huge one, what's important is that you keep it simple and manageable without giving room for overwhelm as an excuse not to pursue your goals. 

Keeping the vision alive.

Make a practice of recommitting yourself to your intention. Alignment to your vision is key, a rooted vision comes from states you want to be in (feelings), things you want to express (gifts and talents) or a sense of spiritual well-being (Connecting to God). 

Dealing with setbacks.

When things don't go as you wish, look for the lesson in the experience. There's always a message that speaks to your life. It could either be an expression of misalignment of some sort. Meaning you're not making the right choices or your vision is not an authentic expression of who you are. Take the time to reflect on your challenges and move on with grace and ease. 
As you attend to the needs of your true self, you provide the conditions for authentic growth. Understand that change may happen slowly, or it may show up sooner than anticipated. It may also come in ways that you may not understand or recognize at first. So let the rain clouds of springtime water the seedlings of change in your life. Maybe a rainbow will appear in your sky!
Action item: Take the time to identify your area of springtime growth. Then write your intention on a piece of paper and post it where you'll see it often. Allow some time for the change to take root. What do you notice? Share your thoughts in the comments below. 


Would you like to join our community? Sign up today to get your 
free
 copy of 
Living a Happiness Prone Life e-book
, a valuable 
resources that teaches you what it takes to be truly happy in life
. Use the form on the right sidebar to enter your name and email address. 
Related Links: About Me | About The Book
With love,