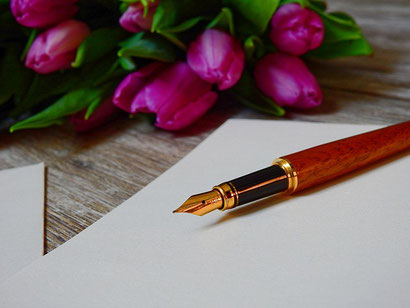 Dear Beautiful Souls,
Winter is a quiet, peaceful season. The sun is low in the sky, and the light is soft. In cooler parts of the world, many plants lose their leaves and stop growing. The landscape appears inert and lifeless, but in truth every living thing is gathering its strength for the season to come.  
Consider the tulip. It grows and blooms in the spring, and it stores up nutrients and energy during that time. The rest of the year, the plant goes dormant. Above ground, it appears that nothing is happening. Yet below the soil, the bulb is converting the stored resources into new growth for the following spring. The wintertime dormancy is private and invisible, yet it is essential to the plant's future vitality. 
We humans naturally follow similar seasonal cycles, although modern life makes it easy to lose touch with this fact. This month, I invite you to take the time to go inward and center yourself, just as nature does. Winter is an ideal time to realign yourself to the truth and to what you desire in your life. To do this, I suggest a two-step process of inquiry and reflection. 


Practice contemplative inquiry. Contemplation is far from passive; it is the active pursuit of truth and meaning. When we contemplate, we look fondly at something and ask questions in an attempt to understand it. We can practice contemplative inquiry when we try to understand the meaning of a poem, or when we appreciate the natural world, noticing the leaves, the sky, the flying birds. We can practice contemplation with ourselves, as we seek to understand our psyche and ask questions that open doors to new perceptions. We follow the trail of discovery as each question leads to further questions. 


Reflect on what you discover. Be receptive to the insights that may arrive in contemplation and the answers you may receive from your inquiry. What is important to you? How could you live more authentically? What actions can you take to align yourself with the universal truths?  
During the dormancy of wintertime, the tulip bulb readies itself for growth. Because the bulb contains everything the plant will need, it does not require perfect weather or soil. By nature, it already carries what it needs to thrive. The same can be true of us, when we take the opportunity to purposefully prepare ourselves. 

Tulips are intriguing in another way: long before they push above the soil and share their blooms with the world, their true, intended form is already encoded and perfect within the bulb. This, too, is true of us. Every soul comes with its own fingerprint, a unique blend of God-given gifts and talents that prepare us to add to life in our own unique ways.  
We live in challenging times, with accelerating change and widespread upheaval. Each of us is called upon to contemplate how our unique gifts can be applied not just in our immediate circles, but more broadly. Each of us has a vital role to play in restoring peace and harmony to the world.  
The Divine has placed you on earth for a reason. As you contemplate, inquire, and reflect, ask yourself, "What are the unique qualities and abilities that I have to offer? How can I be a force of good right here, right now?" 
A purposeful life is the most precious gift you can give to yourself and to the world. The dormancy of winter can be a time to look inward and prepare yourself for a beautiful season of growth and bloom. It's an opportunity to discover your unique role and fulfill the intention of your creation.  
Action item: To prepare for full bloom, consider the following:  
What is my deepest desire?  
How am I already living it? Where do I see examples of it in my daily life? 
What have I achieved so far that has moved me toward that vision or desire?  
How can I give myself permission to live the dream? 
How can this dream bring me to live in truth? 
How can this dream allow me to make greater impact? 
In what areas do I need to grow in order to be in that space? 
What would the theme of next year be in order to bring me closer to my vision? 
What are the next foreseeable steps I can plan in order to make next year a year of growth? 
Share your experience in the comments below. 
Would you like to join our community? Sign up today to get your free copy of Living a Happiness Prone Life e-book, a valuable resources that teaches you what it takes to be truly happy in life. Use the form on the right sidebar to enter your name and email address. 
Related Links: About Me | About The Book
With love,